REGISTRATION
DAYS HOURS MINUTES SECONDS

To register please complete the Online Registration Form.
Early Registration Deadline: extended until 05 February 2017

Registration Fees in Saudi Riyals(SR) & US Dollars (US$):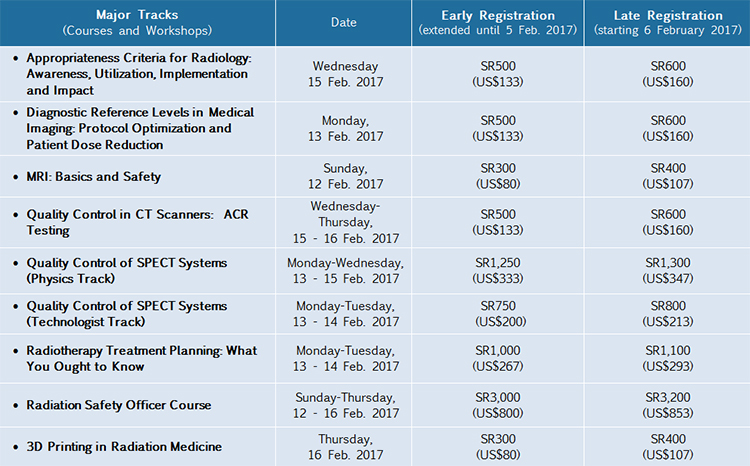 Note: Registration fee includes open buffet lunches and snacks during coffee breaks.


Payment Method:

The registration fees should be transferred to the following bank account:

Bank Name: Al Rajhi Bank
Bank Address: P.O. Box: 28, Riyadh 11411, Head Office, Kingdom Of Saudi Arabia
Branch Name: King Faisal Specialist Hospital
Branch Number: 11400
Account Number: 11460801010200-5
Account Name: Grant Fund Account
Swift Code: RJHISARI
IBAN: A2880000114608010102005

Important Information:
Registration fees should be paid through bank transfer (see bank account details). Please email lsultan@kfshrc.edu.sa a copy of the bank transfer receipt.
Payment of registration fee is required in order to process a visit visa request. (Note: Approval for visit visa is not guaranteed. If visa request is not approved, paid registration fee will not be refunded.)
Registration fee will nonrefunded.
Please click here for important dates
Please click here to download visa application form

For questions and inquiries please contact us:
Research Centre Training and Education Office, MBC #03
King Faisal Specialist Hospital & Research Centre
P.O. Box 3354, Riyadh 11211, Kingdom of Saudi Arabia
Tel: +966 (11) 5577606; Fax: + 966 (11) 442-4661
Email: lsultan@kfshrc.edu.sa
Website: www.radmed.org